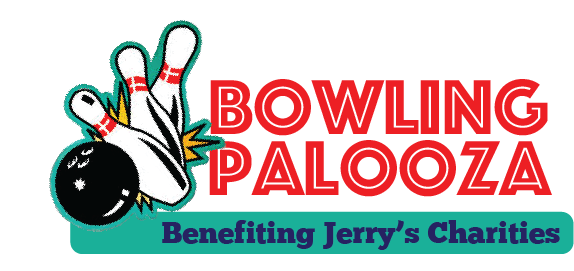 Sign up today!
Purchase a team, individual tickets or make a donation.  Just click the button to the right.
Bowling Palooza
NEW DATE: Wednesday, March 31, 2021
5:30pm - 9pm
Glenfair Lanes
6110 N 59th Ave,
Glendale, AZ 85301
A fun night of bowling with proceeds benefiting Jerry's Charities, a non-profit organization who provides valuable funds to charities serving the Glendale, Arizona community.
Evening activities include bowling, silent auction, raffles, food, drinks and trophies for the winning teams.
Purchase a team of 6 for $1,000 (Includes $500 in raffle tickets, dinner, drinks, T-shirt, and Raffles prizes)  or make a donation to support Jerry's Charities.

Thank you to our 2019 Sponsors:

About our participating charities:
America's Mighty Warriors
Website: americasmightywarriors.org
Mission: America's Mighty Warriors mission is to honor the sacrifices of our troops and the fallen and their families by providing programs that improve quality of life, resiliency and recovery.
Services: The services we provide in Glendale for our Veterans and Gold Star families are Hyperbaric Oxygen Therapy, Hormone and Vitamin Therapy for Veterans with PTS or TBI. Random Acts of Kindness for Veterans and Gold Star families. Retreats for Purple Heart Recipients and Gold Star families, care packages and family support for deployed Veterans from Luke AFB. Dinner's  entertainment, and outings for Veterans and Gold Star families.
Central Arizona Shelter Services
Website: cassaz.org
Mission: Central Arizona Shelter Services (CASS) is guided by our mission: to empower men, women, and children with diverse needs to end their homelessness by providing shelter and supportive services. CASS operates the largest and longest serving emergency shelter in the state, sheltering 470 people every night. CASS also operates a family shelter that houses 120-150 individuals in 30 apartment-style units. Since its founding 34 years ago in response to an unmet need for homelessness services, CASS has utilized innovative strategies as a regional leader in Maricopa County's fight against homelessness. Our emergency shelter follows a strength-based "housing first" model, in which case management helps clients move into housing as quickly as possible and provides wrap-around services to help them sustain that housing. In the last fiscal year, CASS provided 4738 unduplicated people with over 208,000 bed nights.
Services: Neither CASS's Single Adult Shelter nor the Vista Colina Family Shelter are located in Glendale, but both provide shelter services to many Glendale clients.
In addition to helping address clients' basic needs, like shelter, hygiene, and food, CASS provides clients with case managers, who work with clients to develop a personalized housing plan that includes connecting them with appropriate resources.
The backbone of CASS' service is case managers who are well-trained in industry best practices such as trauma informed care, harm reduction, and motivational interviewing. CASS case managers utilize a collaborative, client-centered model of care tailored to each person's needs. Our progressive case management model means that all clients engage with case management to a different degree, based on their specific situation. From the moment most clients complete their shelter intake, they can begin working with case managers. Walk-in case management is available seven days a week—Monday through Friday, clients can speak to someone from case management almost any time from 9AM to 10PM. Even people who work during those hours throughout the week can meet with a client advocate on Saturday or Sunday.
Clients who have more acute barriers and those who would benefit from more structured assistance can schedule one-on-one appointments to meet with a qualified case manager on an on-going basis. Case managers use motivational interviewing to help clients identify their barriers, strengths, and housing goals, which are compiled in a housing case plan during the first appointment. The housing plan, then, provides a guide for addressing each barrier so even the most vulnerable clients can permanently end their homelessness.
Case managers also work closely with agency partners on the Human Services Campus on which CASS is co-located. The Human Services campus allows CASS to quickly connect clients with a range of services including medical, dental, and mental health providers, job placement services, legal assistance, and more. CASS has relationships with dozens of landlords and housing partners who help us quickly find permanent housing for clients, including veterans. We also work with off-campus partners to achieve our mission of permanently ending homelessness for every person we serve.
The Children's Center for Neurodevelopmental Studies
Website: www.thechildrenscenteraz.org
Mission: The Children's Center for Neurodevelopmental Studies is a 501(c)3 non-profit, State-Certified Special Education School and an individualized Therapy Center located in historic old town Glendale.  The Children's Center specializes in helping children and families through comprehensive education, therapy, and habilitative programs for children and young adults with Autism Spectrum Disorder, Down Syndrome, and/or other cognitive and developmental delays. The Children's Center offers services to children, ages 3-21, who have been diagnosed on the Autism Spectrum (moderate and severe), emotionally disabled, and/or multiple-disabilities with severe sensory impairment or traumatic brain injury.   We have been recognized and received awards from the Arizona Council for Exceptional Children, the National Association of Special Education Teachers and the National Council for Learning Disabilities.
Services: The Children's Center, for the past 40 years, has been an Arizona leader in working with children who have Autism and is a favored choice of public-school districts due to our unique, wrap-around approach that meets the individualized needs of each student.  Currently 8 school districts send us their moderate to severe special education students that are not a fit for their programs.  Our Special Education teachers have Master's Degrees and are recognized leaders in the industry.  In addition, we have an excellent support staff and certified multidisciplinary Therapists.  Our services help students learn to control their unique behaviors in order to be able to learn and grow in our school.  Our full time Occupational Therapists and Speech Language Pathologists provide individualized services that normally would have to be provided by independent consultants across the valley.  This makes us a one stop solution for parents that might have to travel to Tempe or Scottsdale for treatments if not provided by The Children's Center.  Our students meet goals as spelled out in their Individual Education Programs (IEPs) and progress toward plugging back in to their districts or society.  We have an After-School Program that provides social skills training for approximately 75 students.  This program works with the Arizona Division of Disabilities and Development and helps children who normally are introverts develop the social skills to interact with others.
In addition to these programs we also have a Summer Program that works with approximately 110 children through the summer and an Adult Program that assists special needs adults year-round.
The Children's Center helps and provides services for over 160 diversified families across Glendale and west Phoenix.
Christian Legal Aid of Arizona (and A Seed Of Hope Thrift Store)
Website: www.christianlegalaidaz.com
Mission: Legal aid is the provision of assistance to people otherwise unable to afford legal representation and access to the court system. Legal aid is regarded as central in providing access to justice by ensuring equality before the law, the right to counsel and the right to a fair trial.
Services: Provides legal aid services and spiritual counseling to the working poor and homeless of Arizona.  The associated "A Seed Of Hope" Resale Boutique gives hope and help to the working poor and homeless, especially in downtown Glendale.
DreamCatchers
Website: https://www.dreamcatchers1.org/
The DreamCatchers program was started as a volunteer program in conjunction with Hospice Care of the West, LLC. The program was the idea of Caitlin Crommett, a 15 year old sophomore at Tesoro High School in Orange County, California. Caitlin had the idea early in 2009 while watching the movie, "Patch Adams" during a scene in which Patch helped an elderly woman who was not eating. In the scene, she noted that she always wanted to jump into a pool of pasta….and Patch made that wish happen.
Beginning at age 12, Caitlin volunteered with the Hospice Care of the West group for several years in various capacities. Now that she has graduated from high school, she is working to expand the program to other communities across the United States. Caitlin is a 2015 graduate from the University of Notre Dame and is passionate about continuing to spread DreamCatchers mission wherever she goes.
Family Promise - Greater Phoenix
Website: https://familypromiseaz.org/
Mission: The Family Promise - Greater Phoenix mission is to provide emergency shelter and social services to help families move toward independent housing and self-sufficiency.
Services: When we begin to rescue families experiencing homelessness in Glendale (Dec. 2018), they will receive all of the support services and resources provided to our families at our Scottsdale location.  These services include: clothing, food, emergency shelter, health and dental referrals, assistance obtaining documents, case management and life-skills training.  Life-skills training includes: cash flow management, parenting counseling, crisis management, resume development, interviewing, and career coaching.  We also assist with job placement and housing referrals.
One Step Beyond, Inc.
Website: https://osbi.org/
Mission: To provide dynamic, responsive programs that engage the goals, talents, and interests of individuals with intellectual disability and empower them to achieve their dreams of optimal independence, enriching social networks, and effective participation in our community.
Services: One Step Beyond, Inc. offers programs to meet the needs of participants and their families:  employment development, culinary training, life skills training, performing and fine arts, sports and fitness programs, resources and support for families. All of these programs accomplish the clear goal of enhancing the quality of life for the individuals we serve. Each participant, in collaboration with their parent/guardian and the OSBI staff, develops a schedule to meet their specific needs and interests. Transportation is provided daily to and from participants' homes as well as to daily activities.
CORONAVIRUS UPDATE:
The executive board of Jerry's Charities has made the difficult decision out of an abundance of caution, to postpone Bowling Palooza.  Realizing how important this event is to all our charities and our community the new date has been set for Wednesday, October 21, 2020.  All auction items, donations and tickets will be transferred to the new date.